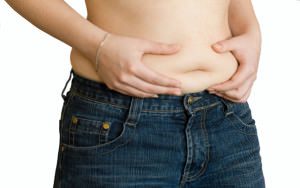 Muffin Top Liposuction / Liposculpture
One of the most frustrating problems facing women is how they fit into new clothing. It's not not that the item of clothing doesn't come their size but rather that the garment cuts into the skin at the hips… the dreaded "muffin top". This indentation over the hips obscures the beautiful sillhouette clothes are known to achieve when looking at the side of the female form. The dent not only creats a loss of this line of beauty but directs attention to the hip and, to the observer, makes one wonder if there is excess fat there, even if there is no extra fat.
View Muffin Top Surgery Before and After
Muffin Top Liposuction
Sounds bad, right? Well, not so much because one of the greatest discoveries ever in the history of cosmetic surgery can really help the muffin top — Liposuction. There are different ways liposuction or liposculpture is performed but the result is less fullness in the area or areas of suction, resulting in a flatter contour.
The best candidates for muffin top liposuction are patients within a normal range of weight who are otherwise healthy and have "bumps" of fat in limited areas. Another plus is to have relatively thick skin that can shrink the area down after suction. Liposuction is the safest procedure performed by plastic surgeons today and compared to other cosmetic procedures performed is not only safer, but less costly and has more rapid healing and less time away from work and activities. A trip to the plastic surgeon's office for a consultation is a great first step towards eliminating the dreaded muffin top and a sleaker torso, making wearing clothes easier and creating a better you.
Other Body Procedures:
– Tummy Tuck
– Liposuction
– Arm Lift
– Thigh Lift